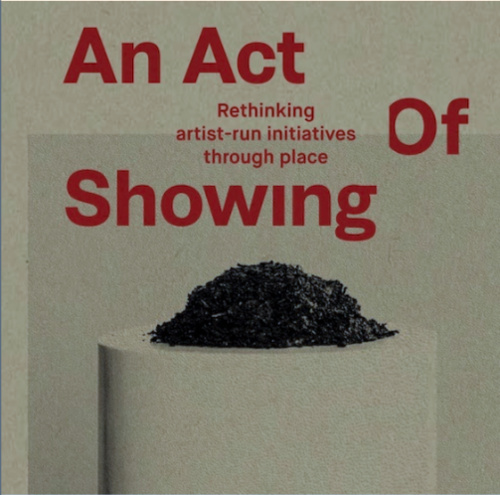 We are pleased to announce the launch of our new book An Act of Showing: rethinking artist-run initiatives through place edited by Maria Miranda and Anabelle Lacroix.

To be launched by Esther Anatolitis, Executive Director of the National Association for the Visual Arts (NAVA):

Tuesday 4 December at 6pm
West Space
Level 1/225 Bourke St, Melbourne


The book features newly commissioned essays by Paola Balla, Kirsten Lyttle and Dominic Redfern. It includes Chris Kraus's essay "Kelly Lake Store" as well as creative contributions by ARIs in Australia and the Asia-Pacific on their relationship to place, and more...

The book is designed by Elwyn Murray and published by Unlikely Publishing, Melbourne.

An Act of Showing will be available at the launch at a special rate.

We look forward to seeing you there!

The book was developed as part of Maria Miranda's ARC research project The Cultural Economy of Artist-run Initiatives in Australia and expands from an exhibition and symposium of the same name exhibited at Testing Grounds last year (www.act-of-showing.net).

We would like to acknowledge the Wurundjeri People of the Kulin Nation as the sovereign custodians and ongoing carers of the land on which this event will take place.