Guest editors: Madeleine Kelly and Jen Valender
Madeleine Kelly is an artist and senior lecturer at Sydney College of the Arts, The University of Sydney. Her work explores the many, often ineffable, points of contact between people, animals and plants such that the material world is transformed in rich and absorbing fantasy.

Jen Valender is a Naarm/Melbourne based cross-disciplinary visual artist and researcher working with moving image, performance and sculpture.
Editorial: Birds and Language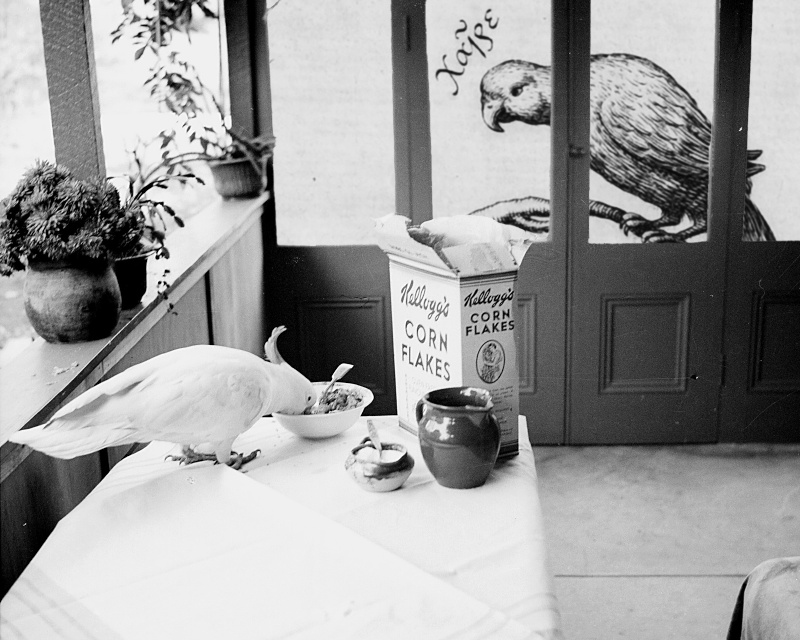 Photo credit: Valender, J. (2023). Source images: Hollick, R. (1910): Bird eating Kellogg's Cornflakes, Courtesy of State Library Victoria; and Kircher, A. (1650): Musurgia Universalis, sive Ars Magna Consoni et Dissoni ", The Universal Musical Art, of the Great Art of Consonance and Dissonance" Courtesy of University of St Andrews Library.
Madeleine Kelly and Jen Valender (guest editors)
Zooming across Australia at the University of Sydney's Birds and Language conference in 2020 (19-20 August), we were mostly at home in pandemic-induced lockdown, often with birds. The relative silence of lockdown allowed their nuanced calls and songs to pierce the air clearly, moving us to think of birds in an existential context. The lockdown also meant that the conference had significant external reach: 346+ registrations and 70 people in attendance over two days. From the Top End to Tasmania, 20 writers and 20 artists contributed to this national event hosted by senior lecturer Madeleine Kelly and former Head of the School of Language, Arts and Media, Ian Maxwell. A pop-up exhibition of site-specific artworks intended initially for the new Sydney College of the Arts campus to accompany the conference was accessible as an online exhibition. This year we are delighted to publish many papers from the conference and projects developed from the pop-up exhibition, alongside additional papers and artworks from across the globe.
As per the conference, this Unlikely Journal edition of Birds and Language addresses two simple questions: What is it to talk of birds and language? How might this question provide the ground for synergies between art, science and the natural world? This edition coincides with the start of the International Decade of Indigenous Languages 2022-2032. It recognises the interdependence of cultural expressions and environmental custodianship through birds — specifically, that the necessity of preserving and fostering cultural diversity and biological diversity are entangled.
Three months after the conference, the Wollongong City Art Gallery exhibition Birds and Language brought together 30 artworks by significant Australian artists who communicated intersections between birds and language. The works were speculative; they suggested a radically different approach to understanding and presenting the colours, forms, sounds and behaviours of birds and reimagining humanity's relationship with non-human life.
From bird dancing and acoustic rhythms to threatened birdsong and languages, birds were considered from important new horizons and perspectives. A range of media — paint, ink, textile, sound, glass, ceramic, digital and more — cross-pollinated with the sonograph, the musical score, taxonomy, taxidermy, text, and abstract graphic languages from Europe to West Arnhem Land. Together they presented birds as communicators and prediscursive agents. A catalogue to the exhibition can be found here.
As part of the exhibition, the event 'The Language of Birds: Writers Listen' was curated by Joshua Lobb, senior lecturer at the University of Wollongong. Writers responded to the lives of the birds discovered in the space. A recording of readings performed of published works and new works written especially for the exhibition by writers from the Creative Writing program at the University of Wollongong will be published in the Project Space along with other creative projects. Further afield are many artists and writers who did not contribute to this edition but who keep the subject vital, such as frequent twitchers and bird-artist friends Raquel Ormella and Fernando do Campo.
For this edition of Unlikely, it has been a privilege to work with inspiring ideas and creative works relating to birds and language. We were thrilled to work with contributors who together describe and develop the potential of the theme: from scholarly texts that explore birds and language through music, birdsong and the Umwelt, linguistics and ethno-ornithology, Tiwi and Māori ancestral stories, mimesis, mimicry and sight, and Australian birds, to video and painting. These contributions pulse with the vitality of birdsong.
The project space contains creative and practice-led responses to the theme Birds and Language in a range of media including film, sound recordings, sonographs, fieldwork, artworks, poetry, reflections on data and more. Accompanying texts contextualise and embellish the works.
The questions arising from this publication are formed not only by birds and language, but also environmental catastrophe spurred by the burning of fossil fuels and mass extinction, and our emotional and aesthetic relationship to it. It also invites a discussion within contemporary discourse in relation to the exploding new field of non-human language.
Fundamentally, this edition gathers multi-model approaches to systems of communication and translation. Contributors play with the performativity and fluidity of language as a tool and living system which is in a constant state of evolution. Some aim to bring order to the wilderness and bridge the disparate Babel between species and between one another. Many consider language as a mirror; a mode of reflection akin to Michel Foucault's assertion in Language to Infinity (1977), where he explores the possibility of language as founded on its infinite folding and mirroring (135).1 A snapshot of such endless translations is presented within the conversations offered in this edition.
Lastly, we would like to thank the peer reviewers whose acumen and generosity allowed the scholarly papers to flourish:
Ruth Barcan
Vanessa Berry
Ally Bisshop
David Brooks
Elyssia Bugg
Genevieve Campbell
Shady Cosgrove
Tim Dyer
Mike Griffiths
Mark Hauber
Jay Johnston
Tessa Laird
Ian Reid
Hollis Taylor
Anna Walker
Jessica Williams
Diana Wood-Conroy
Footnotes
---
Foucault, Michel. "Language to Infinity." In Language, Counter - Memory, Practice: Selected Essays and Interviews, edited by D. Bouchard. Ithaca, N.Y: Cornell University Press, 1977. ↩