Veterans Voices
by AVON HUDSON, MAXINE GOODWIN, DOUGLAS BROOKS, SALLY SHORTER, and TRACEY SHORTER
Avon Hudson is an Australian nuclear veteran, community archivist, and writer and he was a key leader within the Australian Nuclear Veterans Association. He co-authored the book Beyond Belief.

Maxine Goodwin is the daughter of an Australian nuclear veteran of the Montebello Island nuclear tests. She is a researcher and a social worker, and plays a key role in the international Fallout network of nuclear descendants.
Veterans Voices
AVON HUDSON, MAXINE GOODWIN, DOUGLAS BROOKS, SALLY SHORTER, and TRACEY SHORTER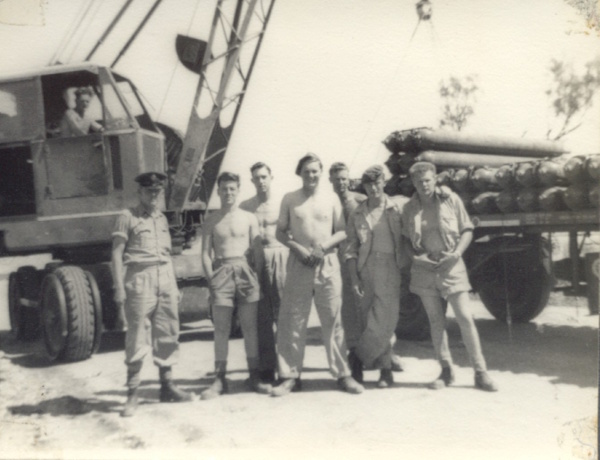 At Maralinga: photo by John Walden
Military veterans and their families from Australia and the UK contributed to the Nuclear Futures Partnership Initiative as storytellers, advisers and artists. A community arts project at Balaklava, a rural township in South Australia and home to veterans campaigner Avon Hudson, became a centrepiece for multiple projects including digital projections, theatre, photography, and an arts showcase that included seminars and activities for schools.
Meanwhile, the situation for descendants of nuclear veterans was becoming clearer as new research initiatives were taken by the British Nuclear Test Veterans Association and its descendants' network 'Fallout'. Maxine Goodwin, a nuclear veteran's daughter and adviser to Nuclear Futures tells how her father was dispatched to Onslow Western Australia to participate in the first British nuclear test as an airborne radar technician. "On the 4th of October 1952, a day after the detonation of the first British nuclear test, one of these Dakota aircraft made contact with the radioactive cloud, my father on board at the time. This event almost 70 years ago shaped not only my father's life, but that of my mother, myself, my siblings and our children... [The arts program] has brought together the shared experiences of nuclear survivor communities worldwide. I welcome the publication and distribution of our stories of loss, strength and resilience".
Some 22,000 British and 8,000 Australian military personnel served at the bomb tests and minor trials conducted by the British at Emu, Maralinga and Monte Bello, between 1952 and 1967. The ongoing and intergenerational health impacts, including both physical illness and post traumatic stress, have been acknowledged through scientific research, and through the testimony of servicemen and their descendants. The rich oral history from nuclear veterans and their families underpins several of the arts projects described in this special issue; just some of their stories are contained in the webisodes below.
WEBISODES
1) Avon Hudson, Australian nuclear veteran on the impact of the Balaklava community arts project
2) Maxine Goodwin, nuclear veteran's daughter, tells her own story and reflects on the nuclear veterans campaigns, at the Adelaide Peace Park nuclear veterans memorial
3) Doug Brooks, Australian nuclear veteran interviewed for the Balaklava community arts project
4) Tracey and Sally Shorter, British nuclear veteran's family interviewed for the Balaklava community arts project
Production Credits
Camera/sound: Tania Safi
Editing: Ray Thomas