Tree of Life: Gift of Peace
by STEVE HARRISON, JOHN TURPIE, RUSSELL BRYANT, TOM REEVES
Russell Bryant is an Anangu resident of Yalata. He is a musician in the Yalata Anangu rock band, a Lutheran pastor, and a member of the Maralinga Tjarutja Council.

Steve Harrison is an Anangu carver and painter from Yalata, who was the Leading hand for the Yalata sculpture project and key artist for Tree of Life Gift of Peace.

John Turpie is a sculptor, printmaker, painter and graphic designer who has worked on numerous public art commissions in South Australia and the Northern Territory.

Tom Reeve is a bronze artist and lead creative for Bronzewing Foundry. He has played a key role in numerous South Australian public sculpture projects.
Tree of Life: Gift of Peace
Steve Harrison, John Turpie, Russell Bryant, Tom Reeves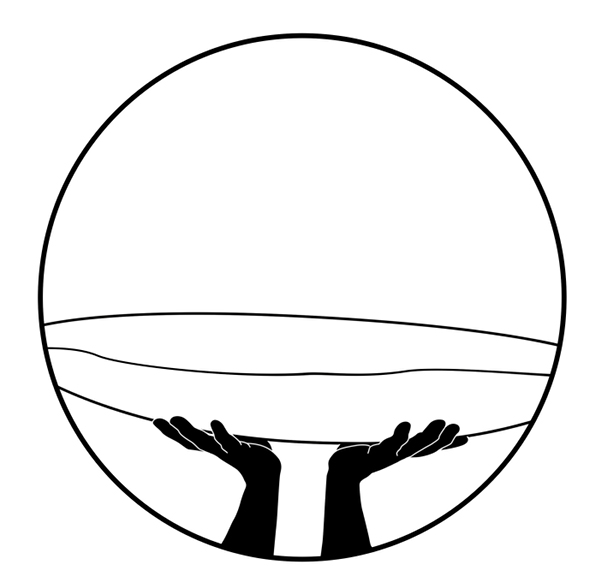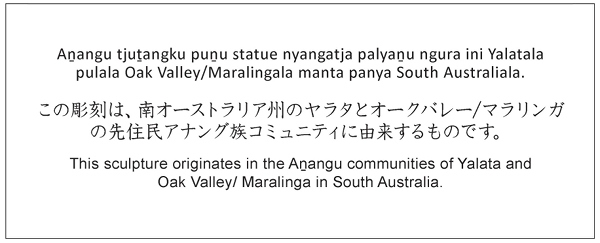 Above: 1) Emblem for the project and 2) Text from the plaques.
I'm feeling proud of something that we've brought from Australia to put here in the Peace Park. I think it's important that we've got something here that represents the people of Maralinga and Yalata. All our old people would have been so proud to see something like this here in another country... so proud that another country accepted a gift from us. It's like leaving a piece of us -- Anangu -- in this area, like you're leaving your spirit here, and taking your body home, back to Australia. (Jeremy LeBois, Chair Maralinga Tjarutja Council)

Art is open to interpretation and that is a personal thing, it's not actually a dogma, the viewer interprets the image... you can have a much more enduring thing happening when it's visual or three dimensional, especially with sculpture. (John Turpie, sculptor)

The wind can blow an idea away but a sculpture holds that idea forever. (Keith Peters, Yalata Elder)

It's given them the opportunity to tell their story... not many people here in Japan know what happened at Maralinga... eighty percent of Australians don't even know what happened at Maralinga... don't even know that the bomb tests existed. What the sculpture symbolizes for the people of Oak Valley and Maralinga and Yalata... is bringing those two countries closer together... two people that are survivors. (Steve Harrison, sculptor)
3) Peace Gift to Nagasaki. 9-minute webisode.
The sculpture-making and gifting
In 2014-16, Yalata Community, in partnership with Alphaville Arts company, Graham F Smith Peace Foundation, Mayors for Peace, and City of Fremantle (lead city for Mayors for Peace in Australia) produced and donated a sculpture titled 'Tree of Life: Gift of Peace' to the Nagasaki Peace Park. The unveiling at Nagasaki took place on 18 April 2016.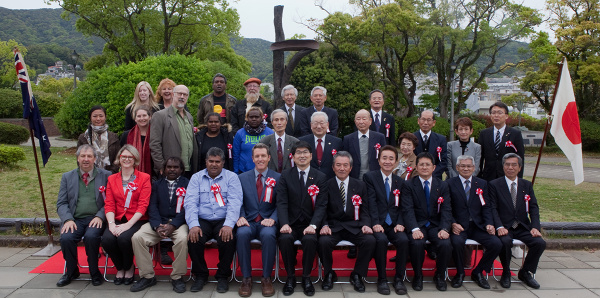 4) Delegates for the Unveiling Ceremony. Photograph: Jessie Boylan.
Timeline
Yalata and other communities that are home to Pitjantjatjara Anangu have a long tradition of paintings, carvings and other artworks that reflect community experience of British nuclear testing at Maralinga. From early 2015, members of the Yalata men's sculpture group worked on a gift for the Nagasaki Peace Park, as cultural exchange between atomic survivor communities, and linked to 70-year commemorations of atomic bombings in Japan. The sculpture group also produced works such as the metal kangaroo sculptures Steel Malu and a mound sculpture now installed at Yalata.
In April 2015, Yalata artists Russell Bryant and Steve Harrison and visiting artist John Turpie made a site visit to Nagasaki, which led to a refined proposal submitted in October 2015. A wood carving workshop for the 2015 Yalata Festival, in which men and young boys work on piti dishes, was also a turning point. The Graham F Smith Peace Foundation awarded the project its annual arts prize in October 2015; and the City of Nagasaki gave formal approval from the Mayor of Nagasaki in December 2015. From October to February, the project team undertook the production stage of the first casting in South Australia. This involved assembly of the central sculpture, production of friezes, then production of bronze castings in Adelaide by sculptor and Bronzewing foundry operator Thomas Reeves.

5) Site Visit to Nagasaki April 2015; 6) Community wood carving workshop Yalata Festival June 2015; and 7) Sculptor John Turpie at the Bronzewing Foundry. Photographs: Ellise Barkley and Jessie Boylan.
Throughout, Nagasaki City Council, and the city's Atomic Bomb Survivors Council, played the key roles at the Japanese end, and Nagasaki provided significant resources in kind for administration and site preparation and construction. Nagasaki City Council designed and built a stone and concrete plinth, which supports the sculpture and carries plaques and friezes. The plaques were written and produced in a detailed consultation process -- they are inscribed with a peace message in three languages: Pitjantjatjara, English and Japanese.
The final stage of transport, installation and ceremony took place in early 2016, and saw the sculpture unveiled at Nagasaki on 18 April 2016. Yalata artists, Yalata youth representatives and Maralinga community leaders, with representatives from Australian Mayors for Peace, formed a 12-person delegation to present the sculpture. The Australian embassy in Tokyo also assembled a government delegation. During the April 2016 visit, the Australian delegation met with several Japanese atomic survivor groups, in Nagasaki and Hiroshima, to exchange community stories and discuss peace initiatives and future exchanges.

8) Gifts between Yalata and Nagasaki. 9) Sculptors and delegates with Japanese colleagues, and 10) Gifts between atomic survivors. Photographs: Jessie Boylan.
The Sculpture
The sculpture embodies a message of peace, and was inspired by the peace-related activities taking place in Nagasaki through the 70-year commemoration of the atomic bombings. It represents the passing of a call for hope and peace across generations and across borders, sent as an internationally relevant message of peace from Australia to Japan.
It also provides an Indigenous Australian presence in Japan, and therefore promotes recognition of Australian atomic survivor communities while expressing the forward-looking initiatives they have pursued. It looks to a peaceful future, while paying respect to Australian and Japanese atomic survivor communities and supporting international advocacy for peace.
The sculpture has local meaning for its own community, and is a universal symbol of world peace and love of humanity. It features symbols and text that convey a message of peace based on the exchange of gifts. The indigenous Australian concept of offering food and water as an expression of peace can be recognized as a universal approach to peace.
There is considerable meaning in the central sculpture, and also in the process by which it is produced and gifted: a Piti (dish) cast in bronze from original carved wood, is placed as if cradled by the branches of a tree. Piti are used to carry food, water and other materials, and also serve as cradles for young children. As a gift, the piti represents the peace offering and sharing of resources between families and between communities.

11) The tree's 'arms' cradle the piti Detail from the sculpture; 12) Tree, Frieze, Plinths; and 13) Tree of Life amongst other Peace Park sculptures. Photographs: Jessie Boylan.
Broken trees, their upper branches swept away by the blast, are associated with atomic bomb zones. The tree used for Tree of Life Gift of Peace is a 'Western Myall' and represents the survival of the natural environment after the atomic tests at Maralinga.
The friezes on the plinth are also important to the story of the sculpture: They depict families attending a negotiation. The piti is placed between kidney shaped symbols, and the painting includes images of fruits and water, to symbolize how the piti is used for the exchange of gifts.
Media Coverage and other Documentation
As production and the ceremonial gifting unfolded, the project was documented by visiting artists, and by Maralinga and Yalata community members travelling with delegations to Japan. Digital artist Jessie Boylan and filmmaker Danni Marwick mentored Shilloh Peel and Alinta Smart, both emerging artists from Yalata, and journalist Doug Smith from Ceduna covered the events for the Adelaide Advertiser. On cameras and iPads documenters recorded interviews and meetings with Japanese survivors and participating artists. Doug Smith also interviewed the Mayor of Nagasaki and members of the Atomic Bomb Survivor Council, and Adrian Glamorgan conducted interviews for the Understorey community radio show. The resulting coverage was significant, in both Australian and Japanese media. The short film 'Peace Gift to Nagasaki' covers the gifting and the community arts and cultural development process involved, and utilized web material, films, books and interviews.
The Plaques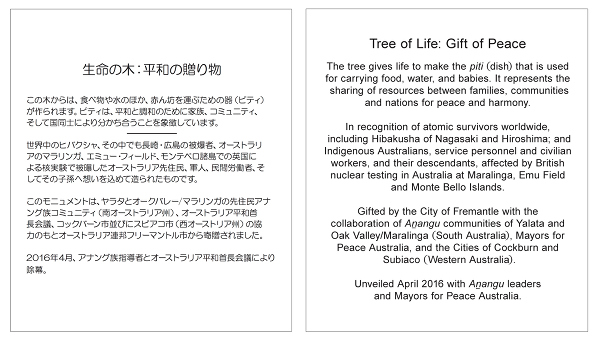 14) English plaque and 15) Japanese plaque.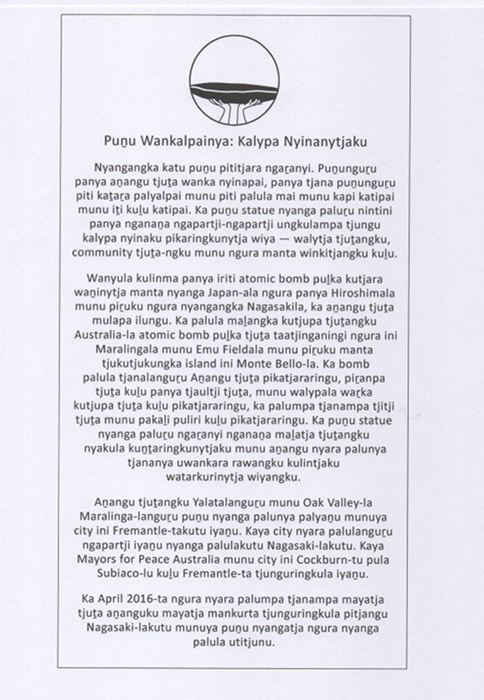 16) Tree of Life: Gift of Peace. Pitjantjatjara plaque.
Creative Team
Tree of Life: Gift of Peace sculpture
Sculptors John Turpie, Steven Harrison, Russell Bryant
Bronze Artist/Foundry Thomas Reeves, Bronzewing
Foundry Hands Jamie Willis, Stephen Lloyd
Graphics Linda Dement
Production Manager Ellise Barkley
Photography and video Jessie Boylan, Danielle Marwick, Doug Smith
Delegates to the unveiling Jeremy LeBois, Shilloh Peel, Alinta Smart, Josh Wilson
Creative Producer Paul Brown
Nagasaki City Liaison Masahiro Yamashita,
Australian Embassy Alexandra Siddall
Facilitator, Guide, Translator Mariko Ishii
Plaque Translations ABC International, Paul Eckert
With assistance from Nagasaki City Council, Mayors for Peace, Cities of Fremantle Cockburn and Subiaco, Nagasaki Atomic Bomb Survivors Council, Nagasaki Atomic Bomb Museum, Mayors for Peace, Yalata Community, Maralinga Tjarutja Council.
Thanks to Adrian Glamorgan, Elizabeth PO', Mima Smart, Siv Grava, Leonie Ebert, Naomi Ebert, Greg Franks, Desley Culpin, Andrea Windlass, Lorraine Garay, Allen and Unwin, Pack and Send, Yvonna Zurawska, Lawson Stapleton, and all those who donated to this project.
Documentation compiled by Paul Brown and Ellise Barkley.
Copyright for the images and artwork resides with the artists / photographers.