Rebellious Art: Pushing Back against the Nuclear State


by PAUL BROWN
Paul Brown is Producer for Alphaville, a Sydney-based arts company specializing in creative projects that have environmental, scientific and social themes; and he holds an honorary position in Environment and Society at University of New South Wales.
Rebellious Art: Pushing Back against the Nuclear State
Paul Brown
Introduction
The Nuclear Futures Partnership Initiative was a multi-arts program co-ordinated by Australian arts company Alphaville, and funded primarily by the Australia Council for the Arts1. Aiming to 'expose the legacies of the atomic age through the creative arts', during 2014-16 it enabled more than twenty community arts projects to emerge from collaborations between creative artists and communities in Australia, Japan and the UK who have experienced nuclear testing. The program's title is deliberately challenging -- an insistence that the nuclear age has condemned us to some kind of nuclear future through irreversible contamination of environments and bodies, while giving us the choice to constrain that nuclear future by the decisions we take now. One function of this paper is to help provide an overview the Nuclear Futures program, while its individual projects are explored in more detail throughout this special edition.2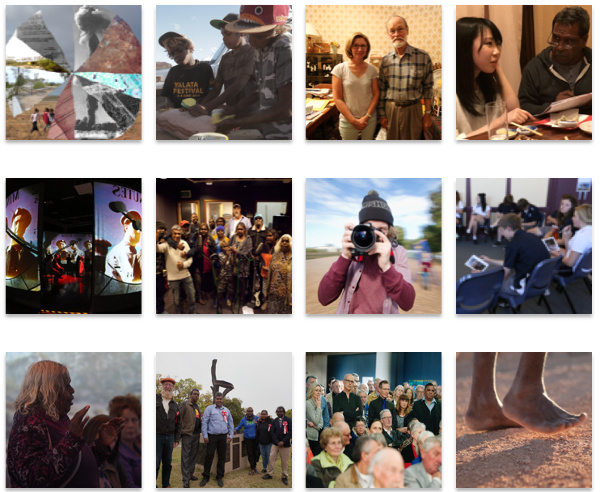 Multiple community arts projects feature in the Nuclear Futures Partnership Initiative. Photos by Jessie Boylan, Ellise Barkley, Danielle Marwick, Ben Searcy, Tania Safi, Paul Brown.
As Nuclear Futures completed its first year of engagement with South Australian communities, the state's Labor Premier Jay Weatherill announced a Royal Commission investigating the nuclear fuel cycle.3 Weatherill, supported by pro-nuclear academics and industry proponents in South Australia, enunciated a vision for the state in which nuclear power stations would be installed, uranium mining would expand, and an international nuclear waste repository would be established as the 'back end' of Australia's participation in the nuclear cycle (Nuclear Fuel Cycle Royal Commission 2016). Public controversy over the Royal Commission provided an important political context to the Nuclear Futures program as it evolved.
Two other major international developments also came to a head as the program was launched. At Hiroshima and Nagasaki, preparations were well in train for the 70-year anniversary of the atomic bombing that marked the transition from World War Two to the Cold War.4 Meanwhile, in the UK, the British Nuclear Test Veterans Association (BNTVA) was campaigning hard for Parliamentary recognition of the impacts on servicemen present at Britain's Australian and South Pacific testing grounds, and for the establishment of a Benevolent Fund.5 This campaign built on recent studies on long-range health impacts experienced by nuclear veterans and their descendants, including growing evidence that genetic modification has passed between generations (Rabbitt Roff 1999; Rowland et al. 2007).
This paper locates the Nuclear Futures program within the changing context of South Australian and international campaigns and events related to nuclear issues. Activities that were part of the Nuclear Futures program, such as multi-arts exhibitions in Balaklava (2015) and Adelaide (2016), gained valency in the campaigns against the expansion of nuclear industry, and especially in the opposition to nuclear waste dumps in South Australia.
Background: origins and development of the Nuclear Futures Partnership Initiative
Nuclear Futures was informed by previous Alphaville projects, which were also tied to nuclear politics. In 2003, Alphaville had initiated a verbatim theatre project: Half a Life which grew from oral history research in collaboration with Australian and British nuclear veterans. This engagement in turn was inspired by nuclear projects initiated for the 2002 Adelaide Festival and led by the Festival's Associate Director Lynette Wallworth.6 In particular, the Festival seeded multiple projects linked to Maralinga, including paintings, development of an art room at Oak Valley led by indigenous architect Alison Page, exhibitions and performances of music and theatre (Page and Wallworth 2003; Brown 2006). Wallworth herself had previously worked on related visual arts projects, and went on to develop several new works around nuclear themes.7
Half a Life constructs dialogue from the first-hand testimony of veterans and their families who experienced nuclear tests and live with the legacies, and it reveals how bizarre experimentation in the desert at Maralinga produced ongoing trauma for veterans and their descendants. Alphaville presented the play in the UK and Australia at a time when nuclear veterans in both countries were pursuing compensation cases and campaigning for health benefits, including the 'Gold Card' that was available to service personnel in Australia but was not automatically issued to nuclear veterans until 2017. Those who, in addition to their presence at a nuclear testing site, had also served in arenas deemed 'warlike' were eligible for the card (serving for example in the so-called Malayan Emergency, or in the Korean War). But this did not apply to many nuclear veterans, since service at Monte Bello Islands, Emu or Maralinga was not classified as action in 'warlike' conditions. In 2006, the government's Clarke Report recommended extending the Gold Card to all nuclear veterans, but it took a further decade of campaigning to achieve the change, finally implemented via the May 2017 Federal budget (Weber 2017). This was the historical context in which Half a Life was performed in 2006 and linked via media coverage to Australian veterans' campaigns (Brown 2006).
Half a Life evolved at the same time that another Australian arts company Big hART was developing Napartji Napartji, a theatre project inspired by the story of Aboriginal families migrating west away from the Maralinga test area. In Art and Upheaval: artists on the world's frontlines, William Cleveland compared these two theatre projects as examples of political art arising from social upheaval in circumstances where justice for affected communities had proved elusive and where artists felt compelled to respond (Cleveland 2008 Part 5). However, the two plays effectively represented a bifurcation of the Maralinga story into 'black' and 'white' narratives, representing a valuable reminder that featuring one rather than dual perspectives is characteristic of many artworks produced about Maralinga. Indeed, the enduring impact of nuclear testing on indigenous Australians is little understood outside their own communities, despite comprehensive coverage of issues during the Royal Commission into British Nuclear Testing (McLelland 1985). Similarly, there has been little or no interaction between Maralinga communities and nuclear veterans that could convey the experience of veterans to indigenous people. From an Alphaville perspective, the search for integration of these often separated stories became an impulse for the Nuclear Futures program.
Nuclear Futures began as a community arts program designed to explore the long-term implications of British nuclear testing, particularly at Maralinga in South Australia. As Australian creative artists responding to the atomic age, our instinct was to work with the surviving eye witnesses; and drawing on the words of Yalata elder Keith Peters, we articulated the objective ­of the program's motto -- of 'making the story go far': both in terms of communication within the current generation, and as a means of 'messaging' to future generations facing a future already colonised and irreversibly contaminated by nuclear materials (Barkley 2018; Brown et al. 2013).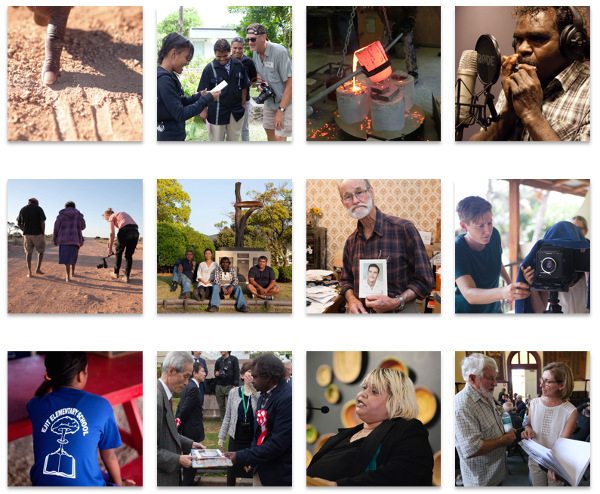 Projects involved artists, communities and multiple partner organisations – indigenous Australian communities, International nuclear veterans networks, and other atomic survivor communities from Japan, Marshall Islands, and Kazakhstan. Photos by Jessie Boylan, Ellise Barkley, Danielle Marwick, Ben Searcy, Tania Safi, Paul Brown.
Community residencies, projects and art works
Balaklava
The first component of Nuclear Futures was an artists' residency begun in 2014 in the agricultural region of Wakefield north of Adelaide. Nuclear veteran and political activist Avon Hudson lives there in the town of Balaklava, and the residency enabled Alphaville's team of visiting artists to explore stories of the atomic bomb with school students, local artists and other community members. The first element was a community photography project facilitated by Jessie Boylan who brought her experience and association with the international Atomic Photographers Guild to the task of developing a biographical exhibition in collaboration with Avon Hudson. Titled Portrait of a Whistleblower, the focus is on Hudson's exploits as a campaigner who led journalists to the sites where contaminated materials had been buried at Maralinga (Boylan 2018a). Meanwhile, another team member, Australian playwright John Romeril, worked alongside Boylan and Hudson, to create a 'nuclear opera' titled Romancing the Atom based on oral history material gathered with nuclear veterans and their descendants (Brown and Romeril 2018).
As the Balaklava residency progressed, the creative team extended the original scheme of projects to include an immersive digital projection for presentation within a large cylindrical screen, 8 metres in diameter. Devised by Adelaide-based artists Teresa Crea, Luke Harrald and Nic Mollison working with the community, this piece, titled 10 Minutes to Midnight, explores the nature and impact of scientific experiments conducted by the British on Anangu land at Maralinga. It also engages the audience in the countdown to a nuclear explosion (Barkley et al. 2018). Alongside development of 10 Minutes to Midnight, we facilitated new collaboration between Australian and British nuclear veterans. This included support for a feature length documentary film Nobody Told Us Anything made by British Director Charles Stewart with British veterans, and presentations at conferences of the British Nuclear Test Veterans Association in Manchester (May 2014) and Bournemouth (May 2015). These activities supported emerging links with the new Fallout network that represents the descendants of British nuclear veterans.8
Yalata
The second major component of the Nuclear Futures program has been an ongoing collaboration with artists and community members at Yalata, an indigenous community in the far west of South Australia. Yalata's population of primarily Pitjantjatjara Anangu families grew when the Ooldea mission closed in 1952. In the following two decades, the town became one of the destinations for Anangu forced to migrate away from the Maralinga nuclear test site (Yalata and Oak Valley Communities with Mattingley 2009), and in 2015, Yalata celebrated 60 years as a township and 40 years as an incorporated and self-governing community. Commencing in late 2014, Alphaville's collaboration with Yalata community grew to include a multi-arts program of linked projects:
The program's first two projects featured the creative vision of two individual Yalata artists. First was development and publication of a new book Maralinga's Long Shadow: the Yvonne Edwards Story, authored by Christobel Mattingley and featuring the artworks of Yalata artist Yvonne Edwards, with photography by Jessie Boylan (Mattingley 2016). This book, which won the 2017 NSW Premiers History Award, explores the intergenerational impacts of nuclear testing on one Yalata extended family. In the second project, a Ceduna-based arts organiser and potter, Pam Diment, collaborated with Yalata visual artist Warren (Ebay) Paul, to create a series of five ceramic bomb sculptures titled Day One: the beginning of whatever we are in now with accompanying pen-and-ink drawings depicting post colonial development.
In 2015 Yalata held its inaugural festival, with Alphaville's creative team and many of Yalata's local artists collaborating on festival events including children's art, digital photography workshops and a program of films. Japanese peace activist and arts facilitator Mariko Ishii, herself a third generation 'hibakusha' (atomic survivor) from Hiroshima, visited Yalata for the festival, making international connections between atomic survivor communities. Another visitor to the festival was Aboriginal musician and songwriter Johnny Lovett.9 His connection with Yalata elder and musician Keith Peters seeded a community music project Sing Maralinga, with Alphaville and Yalata Community as joint producers, enabling translation and recording of a Maralinga song, released as a CD in 2016.
In the third year of our partnership with Yalata, the Women's Centre, with its tradition of producing acrylic paintings on canvass, ran a workshop in conjunction with the Black Mist Burnt Country (BMBC) project.10 Involving three generations of women, the project created a large painting now included in the BMBC exhibition, a large banner used as backdrop for concerts by Yalata Band and another evocative collection of canvasses titled Life Lifted Into the Sky; Mima Smart, Rita Bryant, Missie Windlass and fifteen other women took part, with Pam Diment as facilitator.
The Yalata collaboration also produced a second immersive digital projection (as companion to 10 Minutes to Midnight) made with the Bryant and Smart families and other local storytellers from Yalata, and titled Ngurini (Searching). The 20-minute piece conveys the story of forced migration to Yalata in the era of atomic bomb testing (Boylan 2018b). Also during 2015-16, in what became an internationally significant project, one not envisaged in the original planning for Nuclear Futures, Alphaville and Yalata artists collaborated on a large sculpture titled Tree of Life: Gift of Peace -- a life-like bronzed tree holding a ceremonial 'piti' dish that the people of Yalata and the Australian Mayors for Peace network donated to the Nagasaki Peace Park in 2016 (Barkley and Brown 2018). The Nagasaki project derived from men's sculpture workshops that were run across two years at Yalata, with sculptor John Turpie and local artist Steve Harrison. These workshops also produced large pieces using 'found' materials, including a series of animal sculptures titled Steel Malu installed at Yalata. In the lead up to the Nagasaki sculpture gift, Nuclear Futures supported international workshops that linked Australian artists and Yalata community members with Japanese hibakusha, including delegations visiting the Marshall Islands in 2014, and Japan in 2015 and 2016 (Broderick and Jacobs 2018). Also, Nuclear Futures developed further Japanese linkages through a collaboration with Hiroshima-born sculptor Yukiyo Kawano11, and partnerships with the Hiroshima Peace Institute and the Global Hibakusha Project.
Exhibitions
Public presentation of artworks from the Nuclear Futures program, from both Balaklava and Yalata residencies, took place via a series of exhibitions designed to integrate the 'black' and 'white' stories of nuclear testing. The digital projections 10 Minutes to Midnight and Ngurini became the centrepieces complemented by sculptures, photography, ceramics and paintings, as well as related seminars, music workshops, film screenings and other events. These were exhibited at at Balaklava Town Hall (February 2014), The Block in Brisbane (July-August 2015), for Screengrab in Townsville (December 2015), and at Tandanya Aboriginal Cultural Institute in Adelaide with the title Nuclear (September-November 2016). The Tandanya exhibition is discussed below as an example of creative arts linked to political developments in South Australia.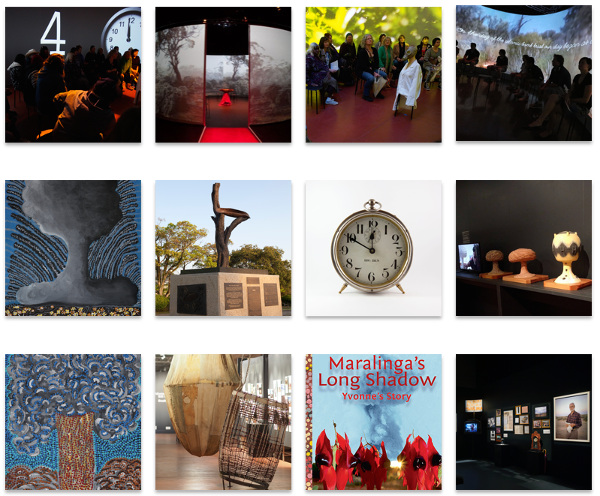 Projects culminated in exhibitions and installations, workshops and seminars, publications and web pages. Photos by Jessie Boylan, Ellise Barkley, Danielle Marwick, Ben Searcy, Tania Safi, Paul Brown.
South Australian Nuclear Politics: two Royal Commissions, the No-Dump Alliance and other developments
Britain's atomic bomb tests were key events in the history of South Australia during the 1950s and 1960s, resulting in a legacy that includes the militarization of a corridor north and west from Woomera, uranium mining at Roxby Downs and Beverley, attempts to site nuclear waste repositories and widespread impacts on land and water (Walker 2016; Tynan 2016). It also includes the two Royal Commissions mentioned above.
The second of these, the Royal Commission into Nuclear Industry, commenced in March 2015, after the South Australian government had announced proposals for further nuclear expansion in February. Though initially surprising to communities, these proposals lay on a continuum of attempts by government in partnership with industry to expand uranium mining and establish nuclear waste treatment facilities and dumps in Australia. The announcement of a Royal Commission set the stage for three years of campaigning by both pro- and anti-nuclear activists. For opponents of nuclear expansion, who had fought off previous attempts to site nuclear waste repositories in South Australia, the mood could be summed up as "Here we go again."
Indeed, the new phase was reminiscent of an earlier concept for a consortium integrating nuclear development in Australia -- the failed 'Pangea' scheme exposed in the 1990s as a proposal developed out of public view to 'bring back' the world's nuclear waste in quantities effectively equivalent to Australia's uranium exports. Pangea had been conceived as a remote-area deep-burial facility with wastes to be treated using the 'Synroc' method -- an Australian invention (Kurzeme 1999). Pangea had foundered on lack of investment and public support, particularly following a campaign by anti-nuclear activists who had seized leaked promotional material to expose the lack of public consultation and Pangea's secretive planning processes. Perhaps learning from this, Premier Weatherill's new 'vision' was publically unveiled in 2015, with a promise to maximise consultation through the Royal Commission process. Weatherill proposed that South Australia would establish a world-leading processing facility where wastes would first 'cool' at ground level for at least 100 years, prior to permanent burial in a secure underground repository in a regional or remote area. In an attempt to bolster the case, Weatherill himself visited European repositories currently in development, and returned to spruik economic advantages for South Australia provided the project could capture a share of the global nuclear waste trade (Scarce, 2016). Alongside this international concept, federally sponsored plans for a domestic low-level nuclear waste repository in South Australia also gained new momentum. As precedent, an earlier proposal for a low-level repository near Woomera had been announced by the Federal Government in 1998, but had been abandoned in 2004 after it was successfully challenged by the 'Irati Wanti' campaign: an alliance of indigenous communities with environmental groups. This campaign was led by a senior Aboriginal women's council from the northeast of South Australia, the Kupa Piti Kungka Tjuta, who along with Kokatha traditional owners collaborated with Friends of the Earth, Australian Conservation Foundation and other environmental groups (Green 2017).
As Weatherill's new nuclearization proposals were debated, opponents used various tactics as anti-nuclear activists, Aboriginal community leaders and nuclear veterans reminded the public of the earlier Royal Commission into British Nuclear Testing headed by James McClelland in the 1980s. The McClelland Commission's findings emphasized, inter alia, the strong likelihood that Aboriginal people had encountered contamination during the tests and during later salvage operations at the site. The inadequacy of clean-up programs at the time of the tests and in the 1970s, meant the particular environmental and health threats posed by plutonium contamination were seen as likely to persist indefinitely at Maralinga (McLelland 1985). The McClelland report heralded almost three decades of new attempts to clean up Maralinga,12 and led to large compensation payments to Aboriginal communities unable to maintain traditional connections within the fenced-off and contaminated lands of the Maralinga restricted area (Tynan 2016). The submission in 2015 to the Nuclear Industry Royal Commission by the Maralinga Tjarutja Council detailed the Anangu experience of British nuclear testing and its aftermath (Collett 2015) and many other submissions also emphasized South Australia's nuclear history, ensuring that memories of Maralinga were never far from the centre of public debate.
As the new phase of campaigning unfolded in 2015-16, a key strategy for those opposed to nuclear expansion was the formation of the No Dump Alliance, bringing indigenous communities, environmental organizations and social justice campaigners together to coordinate activities. The campaign included public speaking tours, seminars, media releases, research, local community visits and public protest rallies. The opponents' campaign was matched against the public relations tactics of the South Australian Government, which instituted an community engagement program that included community visits, seminars, and a 'roadshow' of information sessions and consultations that toured throughout South Australia -- though with insufficient reach into remote Aboriginal communities (Green 2017). The Government's publicity urged South Australians to "Get to KNOW NUCLEAR: Discover. Discuss. Decide." (Government of South Australia 2016).
The Royal Commission issued its report in May 2016, favouring the implementation of nuclear industry including an international waste repository, and was followed by a government-sponsored public relations and consultation process, including a citizen jury of 350 people tasked with deliberating on the recommendations of the Commission. Following consultation with communities and experts, the jury recommended -- by a two-thirds majority -- against a nuclear waste repository (Citizen Jury 2016; Green 2017). A significant factor in this recommendation was the exposure of jury members to the stories and voices of both Aboriginal communities and military veterans who had previously experienced the full force of nuclear industry through British atomic bomb tests. By the time the Royal Commission reported, Aboriginal communities, via peak bodies including the Aboriginal Congress of SA and the state's Native Title groups, had formed a clear position: "We view any further expansion of [nuclear] industry as an imposition on our country, our people, our environment, our culture and our history. We also view it as a blatant disregard for our rights." (Sansbury and Lester 2015). Furthermore, the Citizen Jury concluded that "There is a lack of aboriginal consent. We believe that the government should accept that the Elders have said NO and stop ignoring their opinions" (Citizen Jury 2016).
Immediately following the citizen jury's decision, Premier Weatherill appeared to dismiss the outcome by proposing a state referendum, allowing the controversy to continue. However, in June 2017, with an eye to the 2018 state election and with his Labor government losing ground, Weatherill shelved plans for an international waste repository in the face of public opposition from all other key political parties (Green 2017). This did nothing to halt the federal government's push for a new low level waste repository in regional SA -- a controversy still unfolding at the time of writing.
Rebellious art, vital knowledge and the nuclear state
As noted, in 2016 at Tandanya National Aboriginal Cultural Institute many of the works developed for the Nuclear Futures Partnership Initiative were curated into a single exhibition called Nuclear. This simple title seemed to provide counterpoint to the SA Government's "Know Nuclear" campaign13. As opposition to nuclear waste repositories deepened, the exhibition became one of several rallying points for campaigners and community members, and was visited by members of the citizen jury. Nuclear emphasised the stories of bomb test survivor communities, and insisted that atomic survivor communities need to be heard in critical debates -- that voices which might have otherwise remained unheard should find their outlet through public processes. By integrating artworks from veterans and indigenous communities, the Nuclear Futures program contributed to the reconciliation of these communities through participants' shared experience and responses. In the context of SA nuclear politics, this assisted these communities to present unified opposition to nuclear expansion.
Apart from the works at Tandanya, other events combining art and politics evolved and emerged as a public outcome of the public nuclear debate. Initiatives included the use of the image of Yalata's large painted banner for a postcard issued by ICAN14; the linkage of nuclear art works to new inclusion of nuclear history in the national school curriculum15; the use of the BNTVA's film 'Nobody Told us Anything' as a centrepiece of veterans campaigning; appearances by Yalata band singing their Maralinga Song at campaign meetings including the largest public protest at SA Parliament House16; web distribution of short films in which senior Yalata leaders state their opposition to waste repositories and other nuclear expansion (Peters, Smart and Bryant 2016); and generally, widening publicity for SA nuclear issues via arts projects including Wallworth's Collisions, the travelling Black Mist Burnt Country exhibition, and a prominent new sculpture by Yhonnie Scarce exhibited at SA Art Gallery in 2015 -- all of these emerging as the Royal Commission into Nuclear Industry ran its course17.
The Tandanya exhibition, in its political context, demonstrates the role played by the arts in 'bridging' between community stories and deliberative processes (Mills and Brown 2004). That is, the exhibition was based on artworks emerging from interactions among project participants and was developed as a practical means for informing and persuading decision makers. The role of the arts in social transformation grounded in contextual knowledge is also evident in other Nuclear Futures projects. The Yalata and other Maralinga communities, for example, took initiatives to promote local employment and develop cultural tourism, while the Nagasaki sculpture project assisted in creating a local sense of pride within those communities. Such projects demonstrate the social value of arts activity linked to community development, which is continuing to grow as new cultural programs develop in Maralinga communities.18
The outcomes of the Nuclear Futures program are consistent with the impact of many programs and projects within the field of Community Arts and Cultural Development (CACD). In its political context, the Nuclear Futures program demonstrates the transformative role of CACD, which authors and arts practitioners have deployed and documented previously (Capelin 1995; Mills and Brown 2004; Jacobs 2010; Brown 2014; Jackson 2015). CACD typically originates in the desires by communities for change and problem solving, and CACD practitioners are trained in participatory processes that privilege community determination, strong protocols for community ownership of ideas and stories, and an impulse to locate the arts in the every-day. This means that the preconditions for transforming attitudes and behaviours are more readily met -- communities entering a CACD project are more likely to be receptive to social transformation, if not vociferously asking for it, and willing to generate and 'own' change themselves. In this case, it assisted communities to 'push back' against the state's nuclear ambitions.
Conclusion
Community arts provide an avenue for making and delivering civic knowledge about the nuclear state. The arts (especially arts created in collaborative community contexts) are related to the way we make meaning out of human experience and to the need for problem solving in a world made complex and uncertain by modern day environmental risks (Brown 2014). As environmental and social concerns demand community response, the participatory arts provide a space in which communities can explore their sense of unease and injustice. Because community artists have the capacity to animate the local as a source of values and understanding in an otherwise globalized, seemingly homogenous world, CACD harnesses local streams of thought and action that are rich in contextual knowledge (Mills and Brown 2004; Brown 2007). Hence the arts arguably have a rightful place in policy processes across many sectors, and the key mechanism appears to be the 'bridging' process discussed above in relation to the Nuclear Futures program, a process that is inherent in many CACD programs.
While the rebellious character of participatory arts projects may be troublesome for state actors intent on stage-managing consultative processes, such community-based work is vital for keeping important national issues within public view. Nuclear Futures assisted local determination of how the stories of Maralinga, and other nuclear sites, are communicated within and outside the communities of indigenous atomic survivors and nuclear veterans. It has allowed both community members and artists to re-imagine Maralinga as a contradictory 'place', one that remains the Maralinga Tjarutja homeland while representing the horrors of Australia's nuclear history to both Aboriginal and nuclear veteran communities.
As a title, Nuclear Futures might be favoured by nuclear expansionists; but in our program, we have tried to invoke in its full frightening context -- a future irretrievably colonised by nuclear materials, which present day efforts are demonstrably unable to contain (Galison and Moss 2016). Going one step further, anthropologist Joseph Masco, in his book The Nuclear Borderlands, chronicles the response of Los Alamos and Santa Fe communities to the WWII atomic bomb development in their midst, as well as the enduring legacy of unease related to nuclear industry that pervades these communities and more generally US society. It is a state of mind Masco refers to as the 'nuclear uncanny' (Masco 2006). One of our collaborators, Gordon Murray (2018, in this volume) has explored the nuclear uncanny in the behaviours and responses of descendants of nuclear veterans, showing how creative artworks -- specifically a series of radio plays -- reveal this state of mind. Perhaps, in the context of recent South Australian nuclear politics, ultimately it is the nuclear uncanny linked with a sense of historical injustice that led communities of veterans and Aboriginal atomic survivors to take their stand against the nuclear state to thwart official ambitions for nuclear expansion.
Works Cited
Barkley, Ellise. 2018. 'Making the Story go Far: Reflection, Evaluation, Analysis and Documentation'. Unlikely: Journal for Creative Arts.
Barkley, Ellise, Nic Mollison, Paul Brown, Luke Harrald and Teresa Crea. 2018. 'Staging the Bomb'. Unlikely: Journal for Creative Arts.
Barkley, Ellise and Paul Brown. 2018. 'Tree of Life: Gift of Peace'. Unlikely: Journal for Creative Arts.
Boylan, Jessie. 2018a. 'A Fight for Recognition: Making Portrait of a Whistleblower'. Unlikely: Journal for Creative Arts.
Boylan, Jessie. 2018b. 'Residual: Art Beyond the Event of Maralinga'. Unlikely: Journal for Creative Arts.
Broderick, Mick and Robert Jacobs. 2018. 'The Global Hibakusha Project: Nuclear Post-colonialism and its Intergenerational Legacies'. Unlikely: Journal for Creative Arts.
Brown, Paul. 2017 'Art and the bomb: exposing the legacy of British nuclear testing through atomic survivor stories.' Chapter 6 in Building Sustainability with the Arts: Proceedings of the 2016 Eco-Arts Conference, edited by David Curtis, 105-116 Newcastle Upon Tyne: Cambridge Scholars Publishing.
Brown, Paul. 2014. 'Ecological knowledge in community theatre' in New Work in Ecocriticism: Special Issue of CLCWeb: Comparative Literature and Culture 16, 4 Article 8.
Brown, Paul. 2006. 'Maralinga: Theatre from a Place of War.' In Unstable Ground: The Politics of Place and Performance, edited by Gay McAuley, 205-226. Berne: Peter Lang.
Brown Paul, Avon Hudson, Ellise Barkley and James Arvanitakis. 2013. 'Arts and the deep nuclear future: a prospectus.' Linking Art and the Environment: Proceedings of the first EcoArts Australis Conference, 12-13 May 2013, Wollongong, edited by David Curtis and Lucia Aguilar, 166-170. Wollongong: EcoArts Australis Inc.
Brown, Paul, N.A.J. Taylor and Ellise Barkley (editors). 2018. Australian Art in the Nuclear Age. Special Issue of Unlikely: Journal for Creative Arts. Melbourne: Victorian College of the Arts.
Brown, Paul and John Romeril. 2018. 'Dancing with the Atom' Unlikely: Journal for Creative Arts.
Capelin, Steve (editor). 1995. Challenging the Centre: two decades of political theatre. Brisbane: Playlab Press.
Citizen Jury. 2016. South Australia's Citizens' Jury on Nuclear Waste Final Report, Nov. 2016,
Cleveland, William. 2008. Art and Upheaval: artists on the world's frontlines. Oakland, California: New Village Press.
Collett, Andrew. 2015. Submission to the Nulear Fuel Cycle Royal Commission by Maralinga Tjarutja and Yalata Community Incorporated
Gallison, Peter and Robb Moss. 2016. Containment: documentary film about the prospects for disposition of nuclear waste for now and for the next 10,000 years. Harvard University.
Government of South Australia. 2016. Get to KNOW NUCLEAR. Discover. Discuss. Decide. Community engagement campaign. Website
Green, Jim. 2017. 'Radioactive waste and Australia's indigenous people.' Angelaki: journal of the theoretical humanities. 22:3, 33-50.
Ham, Paul. 2011. Hiroshima Nagasaki. Sydney: Harper Collins.
Jackson, Donna. 2015. Art and Social Change: 'Dust': a case study. Melbourne: Hubcap Productions.
Jacobs, Robert (editor). 2010. Filling the Hole in the Nuclear Future: art and popular culture respond to the bomb. Lanham, Maryland: Lexington Books.
Kurzeme, Marcis. 1999. 'The Pangea Concept for an International Radioactive Waste Repository'. In Conference Handbook: Australian Nuclear Association conference on nuclear science and engineering in Australia: A nuclear renaissance, 27-28 Oct 1999; Canberra: Australian Nuclear Association.
Masco, Joseph. 2006. The Nuclear Borderlands: the Manhattan Project in Post-Cold War New Mexico, Princeton, Princeton University Press.
McClelland, James. 1985. Report of the Royal Commission into British Nuclear Tests in Australia, Vol. III Conclusions and Recommendations, Parliamentary Paper No. 484/1985. Canberra: Parliament of the Commonwealth of Australia.
Mattingley, Christobel. 2016. Maralinga's Long Shadow: the Yvonne Edwards Story. Melbourne: Allen and Unwin.
Mills, Deborah and Paul Brown. 2004. Art and Wellbeing: Confirming the connections between Community Cultural Development and Health, Ecologically Sustainable development, Public Housing and Place, Rural Revitalisation, Community Strengthening, Active Citizenship, Social Inclusion and Cultural Diversity. Sydney: Australia Council for the Arts.
Mills, Deborah. 2008. 'Citizen Values and the Arts: new language for Australian cultural policy'. In Making Meaning Making Money: directions for the arts and cultural industries in The Creative Age, edited by Lisa Anderson and Kate Oakley, 205-226. Newcastle Upon Tyne: Cambridge Scholars Publishing.
Mittmann, Jan Dirk. 2016. 'Atomic Testing in Australian Art.' In Black Mist Burnt Country: testing the bomb, Maralinga and Australian Art: Catalogue, edited by Jan Dirk Mittmann, 36-65. Upwey: Burrinja Dandenong Ranges Cultural Centre.
Murray, Gordon. 2018. 'Where do you put the bomb?'. Unlikely: Journal for Creative Arts.
Nuclear Fuel Cycle Royal Commision. 2016. 'Know Nuclear' Website for the Royal Commission. https://nuclear.yoursay.sa.gov.au
Page, Alison and Lynnette Wallworth. 2003. 'Placemaking / Wellbeing and the Adelaide Festival of Arts', seminar paper for School of History and Philosophy of Science, University of New South Wales.
Peters, Keith, Mima Smart and Russell Bryant, 2016. Collection of interview statements on waste repositories and other nuclear issues. 'Community Voices', this collection.
Rabbitt Roff, Sue. 1999. "Mortality and Morbidity in members of the British Nuclear Tests Veterans Association and the New Zealand Nuclear Tests Veterans Association." Medicine, Conflict, And Survival 15 (Supplement 1): 1-51.
Rowland, R.E. (Al), John Podd, Mohammed Abdul Wahab, Elizabeth Nickless, Claude Parmentier and Radhia M'Kacher. 2007. New Zealand Nuclear Test Veterans' Study - a Cytogenetic Analysis. Palmerston North: Massey University.
Sansbury, Tauto and Karina Lester. 2015. Statement on behalf of Native Title groups, submission to Nuclear Fuel Cycle Royal Commission, PDF
Scarce, Kevin. 2016. Nuclear Fuel Cycle Royal Commission Report.- Adelaide: Government of South Australia.
Taylor, N.A.J. 2018. Situated Nuclear Knowledges: an ecology of Antipodean nuclear art'. Unlikely: Journal for Creative Arts.
Tynan, Liz. 2016. Atomic Thunder: the Maralinga Story. Sydney: New South Books.
Walker, Frank. 2016 (second edition). Maralinga: the chilling expose of our secret nuclear shame and betrayal of our troops and country. Sydney: Hachette.
Wallworth, Lynette. 2016. Collisions: exploring the collision of science and spirit, featuring Nyarri Morgan and his story. Immersive digital art work.
Weber, David and Emily Piesse. 2017. 'Budget 2017: Veterans exposed to nuclear bomb tests welcome Government decision to grant Gold Card access'. ABC News 7 May 2017. Web
Yalata and Oak Valley Communities with Christobel Mattingley. 2009. Maralinga: the Anangu Story. Melbourne, Allen&Unwin.
Acknowledgement
An earlier version of this paper was presented for the 2016 National EcoArts Australis Conference, Wollongong 2016 (Brown 2017).
Footnotes
---