Maralinga's Long Shadow: the Yvonne Edwards Story
by CHRISTOBEL MATTINGLEY and the EDWARDS FAMILY
Christobel Mattingley has published 46 books for children. Working with Aboriginal people for decades, Christobel wrote the landmark history Survival in Our Own Land, and Maralinga: the Anangu Story.
Maralinga's Long Shadow: the Yvonne Edwards Story
Christobel Mattingley and the Edwards Family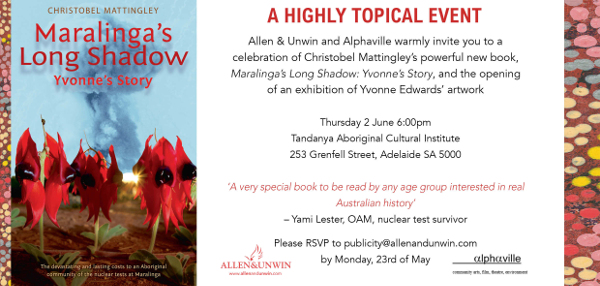 1) Invitation for the launch of Maralinga's Long Shadow: the Yvonne Edwards Story.
'Grandfather and Grandmother telling lots of stories. They had to live at Yalata. Their home was bombed. That was their home where the bomb went off. They thought it was mamu tjuta, evil spirits, coming. Everyone was frightened, thinking about people back in the bush. Didn't know what bomb was. Later told it was poison. Parents and grandparents really wanted to go home, used to talk all the time to get their land back.'
-- Yvonne Edwards interviewed by Christobel Mattingley
The book is centred on the life of Yalata artist Yvonne Edwards, her family and community history, and authored by Christobel Mattingley with paintings by Yvonne Edwards and photography by Jessie Boylan. The June 2016 launch at Tandanya during Reconciliation week brought some 45 community members from remote SA to Adelaide, to be joined by another 250 people for a most moving event, which included powerful speeches by members of the Edwards family and other community leaders.

2) Audience for the book launch at Tandanya National Aboriginal Cultural Institute, 6 June 2016.
Publication Notes
Publisher's website entry (scroll down to access and download Teachers' Notes.)
Yvonne Edwards: The powerful story of the artist and community leader, who lived on or near the Maralinga lands, and the cost of the fall-out for herself and her family from the nuclear tests in the 1950s. Yvonne Edwards was just six years old when the first bombs of the nuclear tests at Maralinga were detonated in 1956. The tests continued until 1963 and their consequences profoundly affected her family and community.
Christobel Mattingley has published 46 books for children. Some have been translated, into 13 languages altogether, some have won awards in Australia and USA, several were filmed for ABC TV. Working with Aboriginal people for decades, Christobel wrote the landmark history Survival in Our Own Land, and Maralinga: the Anangu Story. She has received many awards for service to literature and commitment to social justice and cultural issues, including the Advance Australia Award (1990), the Ekidnas Lifetime Recognition Award (2004), UNESCO (Adelaide Chapter) Award (2009), Alice Award (2010). She was made an Honorary Doctor of the University of South Australia (1995), a Member of the Order of Australia (1996), and an Honorary Doctor of Letters of the University of Tasmania (2015).
Awards
Winner NSW Premier's History Awards -- Young People's History Prize 2017;
Short-listed Australian Christian Book of the Year 2016;
Short-listed Educational Publishing Awards -- Secondary Student Resource (Junior) -- English/Humanities 2016.

3) Eileen Miller speaks at the launch on behalf of the Edwards family. 4) Author Christobel Mattingley at the launch. Tandanya 6 June 2016. Photographs: Ben Searcy.
Commentary
As a project, 'Maralinga's Long Shadow: Yvonne's Story' sits within several contexts. It is a book that honours an agreement between the author Christobel Mattingley and a prominent artist and community leader, the late Yvonne Edwards. It is also a book that brings into focus one of the least known and most damaging episodes of the Maralinga story -- the use of Aboriginal labour for the 1970s attempt to clean up the contaminated bomb sites. And it tells a heart wrenching story of family life in the wake of that episode, and in the broader historical context of dislocation caused by British nuclear testing and other key historical events, including the closure of the Ooldea Mission.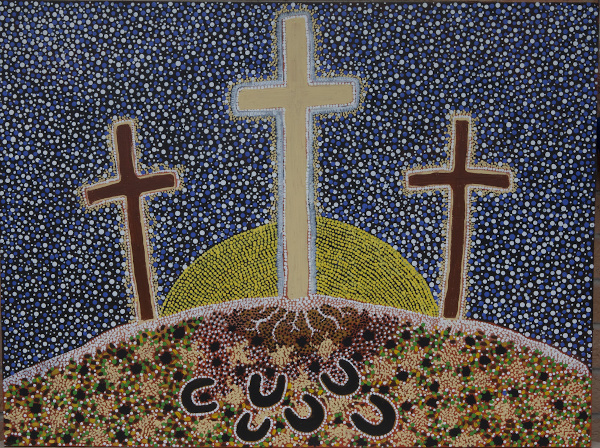 5) Crucifixion Yvonne Edwards. Commissioned by St David's Anglican Church Burnside. Photo: Erica Wagner
The book is a means of telling the Maralinga story through creative arts. In this respect it sits on a lineage of projects that in the last couple of decades have included the Spinifex paintings project; the previous book also by Christobel Mattingley Maralinga: the Anangu Story which contained many artworks; the works assembled for the Black Mist Burt Country travelling exhibition; a collection of pottery works Day One: the beginning of whatever we are in now by artist Warren (Ebay) Paul; and a recent collection of canvasses Life Lifted into the Sky which has emerged from a workshop of 15 women painters at the Yalata Womens Centre, all determined to tell the story of the bomb through their art, and inspired by Yvonne Edwards' legacy.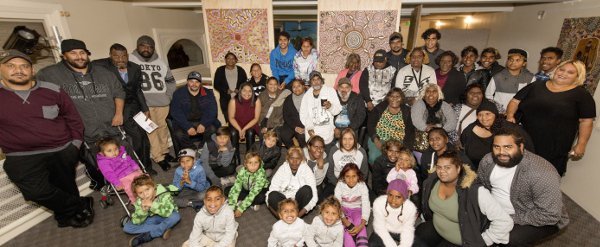 6) Edwards Family and Friends with Yvonne's paintings. Tandanya National Aboriginal Cultural Institute. Photograph: Ben Searcy.
Credits
Writer: Christobel Mattingley
Photographers: Jessie Boylan, Ben Searcy, Erica Wagner
Publisher: Allen and Unwin
Publisher's representative: Erica Wagner
Book Cover design: Ruth Gruner
Book Launch co-ordinators: Paul Brown and Phoebe Azer
Thanks to: The Edwards Family, Tandanya National Aboriginal Cultural Institute, Yalata Community, Tullawon Health Services Yalata.
Acknowledgements
The partnership between Alphaville, Allen and Unwin and Tandanya was instrumental in funding of the project, final publication and book launch. Allen and Unwin produced Teachers Notes written by Rob Andrew.
Documentation and commentary compiled by Paul Brown.
Copyright for the paintings resides with the Edwards Family.
Copyright for the photographs resides with Jessie Boylan, Ben Searcy and Erica Wagner
Copyright for the book text resides with Christobel Mattingley