Life Lifted into the Sky
by MIMA SMART, RITA BRYANT and MISSIE WINDLASS with JD MITTMANN, PAM DIMENT AND PAUL BROWN
Mima Smart OAM is a, painter, singer and community leader at Yalata. She has served as the Chair of the Yalata Community Board, and is a leading advocate for her community's development and well-being.

Rita Bryant is a painter, carver and resident of Yalata Anangu community in the far west of South Australia. She worked as a music teacher across all Maralinga schools and communities.

Missie Windlass is a painter and leader of the Womens group at Yalata.

JD Mittmann is the Curator and Manager of Collections at Burrinja Cultural Centre in Victoria. He is the Curator of the Black Mist Burnt Country touring exhibition.

Paul Brown is Producer for Alphaville, a Sydney-based arts company specializing in creative projects that have environmental, scientific and social themes; and he holds an honorary position in Environment and Society at University of New South Wales.

Pam Diment is a potter and arts facilitator from Ceduna, who has been Director of Tjutjuna the Aboriginal Arts and Cultural Centre at Ceduna, and has worked extensively with remote area communities including Yalata and Oak Valley.
Life Lifted into the Sky
Mima Smart, Rita Bryant and Missie Windlass with JD Mittmann, Pam Diment and Paul Brown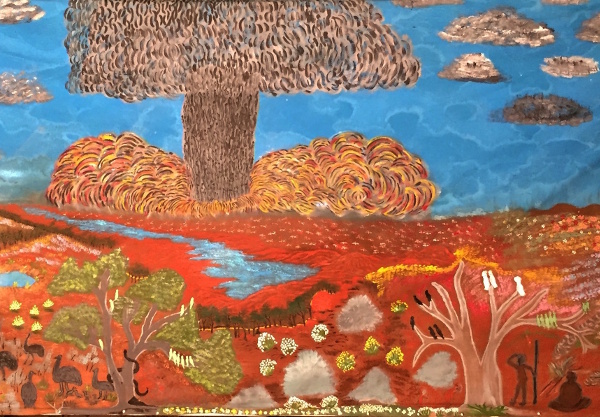 1) 'Maralinga' banner detail: 2016, acrylic on canvas, full size 1.5m by 3m. Artists: Mima Smart and Rita Bryant. First exhibited at Tandanya National Aboriginal Cultural Institute in 2016. Photograph by Paul Brown.
2) Death: 2016, acrylic on canvas; 64 by 39cm Artist: Alinta Smart 3) Life Lifted into the Sky: 2016, acrylic on canvas, 60 by 36 cm. Artist: Mima Smart. Photographs by Pam Diment.
4) For the full collection Life Lifted into the Sky enter the gallery of images here. All photographs by Pam Diment.
Painter's Stories
Wall text for Life Lifted into the Sky:
Margaret May, told with Edwina Ingomar: Titles: Taken from Country and Loud Thunder and Mamu Train
Our story is about Anangu camping at Ooldea and the people being taken away from country by truck. The strange straight line that was shining in the tjindu (sun). What was it? Then the mamu came with noise and smoke. We all run and hide. We were scared of the mamu truck and the mamu train.
Karen Ingomar: Title: They take us away them white fellas
Anangu ngura (home) at Ooldea. White fella telling people to go away from country as Maralinga bomb had gone off, and was not good for Anangu. "It can make you sick." White fella removed Anangu from their country by truck. Some Anangu walked to APY Lands. Yalata was where they put us to live. This isn't our traditional grounds.
Polly Charra: Title: White fella take us Anangu away
Anangu leave Ooldea, long time ago. Frightened by the big Mamu spirit Maralinga. Anangu pitanyi (go to) Yalata. Some Anangu walk to Ooldea tanks; others moved to Yalata by truck. They shifted the church to Yalata which is still used in Yalata to this day.
Verna Gibson: Title: Taken from Ngura
White fella bringing all the Anangu to Ooldea, then the people are put onto trucks to be transported to Yalata. The caravan is the health clinic, and the truck was used to take us to a strange new home Yalata. Lots of Anangu went to the 'Bush Church'.
Edwina Ingomar: Title: All Finished Gone
Ooldea is all finished, poisoned by the bomb. New camp strange place, not our traditional country. The white fella take us here -- Yalata, a new camp.
Rita Bryant: Title: Anangu Tjuta at Ooldea Camp
We got moved to Ooldea Tank. School was held under the shelter of the tanks. One of our teachers was Mr Minning, an Anangu man, and Margaret Tishlar. We received food such as tea and biscuits -- bush biscuits. The truck was called the flour and tea truck. It brought us mai (food).
Alinta Smart: Title: Death
When the atomic bomb went off, all the trees, grass and the animals were
dead. Left everything burnt all went dry with no green bush and animal life
left. All gone.
Melvina Smart and Jaleen (Eileen) Miller: Title: Bush Church
Many years ago our home got bombed by the British Atomic testing. This was a very sad day for us, as we all had to leave our home. We had no choice the army told us; we must not be on our home soil as radiation had infected our soil. We then were forced to leave our home escorted by the army, in big green trucks to a new home. This was very hard for us, and very sad for us as all we knew and loved our country now it was gone. We always found comfort in the Lord, so having no church made us sad; we decide to have a bush church. Bush church it is a place where we come to worship the Lord; this was set up by the missionaries. The missionaries had to follow us where ever we put our camps; this is how the bush church started, as we sat on the ground made fires and sang songs and hear the word of God. So no matter where we went, we always set up bush church at our camp.
5) Rita Bryant and Mima Smart working on the banner. Photograph Paul Brown
Project History
Yalata Womens Centre and other groups of Maralinga painters have been developing and sharing painting skills over many years (See Commentary below by JD Mittmann). They have exhibited artworks locally, sold them via the Tjutjuna: Ceduna Aboriginal Arts and Culture Centre, included paintings and sculptures in the annual Our Mob exhibition, and featured paintings in the books Maralinga: the Anangu Story and most recently Maralinga's Long Shadow: the Yvonne Edwards story (See separate documentation in this volume).
In May 2016 Yalata held its annual sports carnival, and in that year music and paintings projects coincided. Around the time of the 2016 sports carnival, the Black Mist Burnt Country national touring exhibition commissioned Yalata painters and facilitator Pam Diment to produce a large communally painted canvas, for inclusion in its three-year program of gallery exhibitions across Australia. As a means of gathering and sharing their stories for the two large paintings, sixteen Yalata women, across three generations, sat together and produced thematically linked smaller works, creating the collection Life lifted into the sky. Two painters Mima Smart and Rita Bryant also produced a large banner to accompany Yalata Band's performance of a new song Sing Maralinga for the sports carnival.
In these smaller pictures, and in the banner, each painter elaborates on the migration story of the 1950s -- that period in the region's history when the British tested nuclear weapons, declaring Maralinga to be a permanent firing range, and preventing Anangu from occupying or visiting their lands. Meanwhile the forced closure of the Ooldea Mission in 1952, had begun a process of migration south to the newly formed township of Yalata. The paintings show the impact of the Maralinga bombs on people and country, and the role whitefellas played in the forced removals from Ooldea. But they also depict the temporary camps, the bush church, the roads, the railway line, the vehicles and the footprints that were all vital elements of one of Australia's least known migration stories.
The works were publically presented in 2016-19: The large painting titled Maralinga Tjukurpa is exhibited within the Black Mist Burnt Country travelling exhibition 2016-19; Exhibition of the collection of small paintings Life Lifted into the Sky took place within the Nuclear showcase at Tandanya National Aboriginal Cultural Institute 17 September to 12 November 2016; The Maralinga banner was displayed at performances by Yalata Band, and at a mass gathering by 3,000 people at South Australian Parliament House on 15 October 2016 protesting against proposals for nuclear waste repositories; and in 2017, the banner image also became a post card used by the International Campaign to Abolish Nuclear weapons (ICAN). The image of Mary Ann Finlay's Untitled painting became the CD cover for the song Maralinga produced by Johnny Lovett and the Yalata Band in 2016.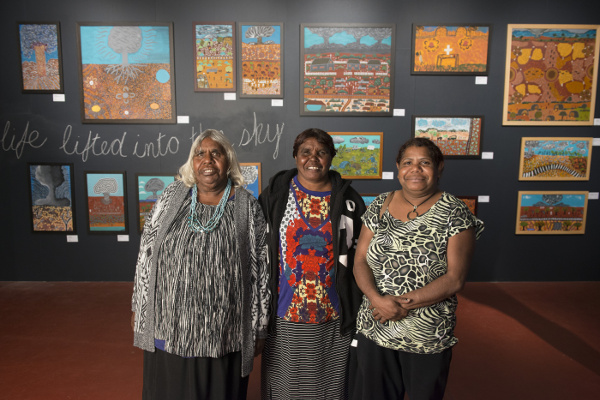 6) Yalata artists (L-R) Mima Smart, Sharon Bryant and Missy Windlass in front of the collection Life Lifted into the Sky. Tandana National Aboriginal Cultural Institute Nuclear exhibition 17 September to 12 November 2016. Photograph Ben c
Credits
Painters: Alinta Smart, Ann Marie Woods, Edwina Ingomar, Natasha Woods, Verna Gibson, Polly Charra, Teresa Peters, Margaret May, Mima Smart, Karen Ingomar, Melvina Smart, Eileen Champion, Rita Bryant, Glenda Ken, Mary Ann Finlay, Melissa Windlass
Workshop facilitator: Pam Diment
Photograhers: Pam Diment, Ben Searcy, Paul Brown
Creative Producers: Paul Brown for Alphaville; JD Mittmann for Black Mist Burnt Country
With thanks to: Yalata Community Incorporated; Yalata Womens Centre; Tandanya National Aboriginal Cultural Institute, Blackman Gallery at Clare South Australia.
Additional background: Anangu, art and the bomb
JD Mittmann (Curator for the Black Mist Burnt Country exhibition)
Maralinga Tjukurpa is the title of the large painting produced by Yalata women for the Black Mist Burnt Country exhibition. The collection Life Lifted into the Sky was created alongside this larger painting.
In Maralinga Tjukurpa, a greyish-blue cloud rises geyser-like into a dark sky above an unfamiliar landscape. The red dunes of the distant Great Victoria Desert shimmer blue like a volatile sea. In the foreground of the painting, clearly separated, bright colours indicate better, happier times. Flowers are blossoming. Individuals carrying piti (dishes) and sitting around camp fires live a peaceful existence.
Yet, on display is a sad and sinister story; and one that many Australians don't know much about. The canvas is partly covered in dots of acrylic paint, a style that is typical for the central and western desert painting movements. It tells the story of the Pitjantjatjara Anangu people of South Australia, their dislocation from traditional lands, the exposure to atomic testing and the subsequent contamination of their country.
The painting was commissioned for the exhibition Black Mist Burnt Country: Testing the Bomb - Maralinga and Australian Art, a national touring exhibition of artworks from over 30 Indigenous and non-Indigenous artists from the last seven decades which is currently being presented at public galleries and museums throughout Australia.
A total of seven atomic devices were tested by the British (with Australian Government approval and logistical support) from 1956-57 at Maralinga, accompanied by over 500 so-called 'minor tests'. Ironically, those later trials produced much of the most devastating and long-lasting contamination of Anangu country. Despite several clean-up efforts sections of the land will remain inhabitable for generations to come.
These Maralinga tests were part of a program which began in 1952. The British were pushing to join the 'club' of atomic weapons states and exploded their first atomic device off the coast of Western Australia, before moving inland to a place called Emu Field in South Australia. But it was the subsequent trial program at the proposed 'permanent site' of Maralinga which gave atomic testing in Australia its iconic name.1
The story of the Pitjantjatjara Anangu people has been told in Christobel Mattingley's award-winning 2009 book, Maralinga the Anangu Story, a collaboration that involved members of Yalata and Oak Valley communities as story-tellers and painters.2 Over 50 canvasses of varying size and quality were produced for the book, some of which feature on the front cover and throughout the book. These works inspired the commission of a new, collaborative community work for the exhibition.
After consulting with the Yalata community the Black Mist Burnt Country project was instigated with the aim to invite ownership of and participation in the exhibition. The exhibition budget provided financial resources for materials and facilitation. Pam Diment, Ceduna Arts Centre manager agreed to act as the facilitator, provide the painting materials and oversee the production process.
Community engagement through creative projects and activities has history in Yalata and Oak Valley. Jonathan Kumintjarra Brown, a member of the 'stolen generations' and artist, developed creative activities in the community in the early 1990s. His own works were presented in a seminal exhibition titled Maralinga Nullius as part of Native Title Now, an exhibition curated by Doreen Mellor for Tandanya National Aboriginal Cultural Institute in Adelaide in 1996.
In 2002 Adelaide Festival of Arts set out to thematically explore the relationship between art and place. Funded by the Australia Council through the Festival, Alison Page, a Tharawal designer based in NSW, created an art-room where a series of paintings were produced which detailed the impacts of atomic testing on the community of Oak Valley near Maralinga. The idea for Desert Oaks originated in consultation with Maralinga Tjarutja elder Archie Barton as a contribution to community development, employment, housing, and youth. Cultural activities were regarded as instrumental in combining these components and as "a contributing force for planning and implementation".3
Lance Atkinson, a Yorta-Yorta artist from Mildura in Victoria, and Maggie Urban, a Northern Territory arts facilitator conducted a series of painting workshops at the Oak Valley outstation. Atkinson became a regular visitor and continued to paint about Maralinga himself. Among others two paintings which were produced by Hilda Moodoo and her husband Jeffrey Queama, were acquired by the Art Gallery of South Australia. These clearly show Atkinson's influence and are included in the exhibition Black Mist Burnt Country alongside their mentor's own painting.
Hilda Moodoo belongs to a generation of Anangu who were born in the early- to mid-1950s and either witnessed the mushroom clouds raising about the desert country or learned about the tests from their parents or grand-parents. Yvonne Edwards recalled: "Grandfather and Grandmother telling lots of stories They had to live at Yalata. Their home was bombed. That was where the bomb went off. Really frightened."4
Maralinga Tjukurpa retells this story: soldiers were arriving with trucks at Ooldea, a United Mission station and important life-sustaining waterhole not far from the trans-Continental Railway track; everyone was taken away to unfamiliar, foreign country. The Aboriginal Reserve had been reclaimed by the Government; the people had to make way for the atom bomb tests. Former Yalata chairperson and artist Mima Smart summarised: "Because of the poison from the bombs being tested at Maralinga the country is no good. No good at all. That poison has killed so many of our people. Through that atomic bomb. And radiation on everything ... sand, trees, animals, buildings and other things. Our families are upset by all this mess ... It is important that these stories are told for our next generation."5
Documentation compiled by Paul Brown, Pam Diment and JD Mittmann
Copyright for the paintings resides with the artists.
Copyright for the photographs resides with the photographers who are acknowledged.
Life Lifted into the Sky - full collection / figure list
Alinta Smart, Death, size: H64cm x W38.5 cm
Ann Marie Woods, Maralinga, size: H64.5 x W38cm
Mima Smart, Life lifted into the sky, size: H59.5 x W35.5cm
Edwina Ingomar, All Finished gone, size: H63.5 x W36cm
Natasha Woods, Poisoned Munda, size: H56 x W34cm
Verna Gibson, Taken from Ngura, size: H54cm xW35.5
Polly Charra, White fella take us Anangu away, size: H58 x W34cm
Teresa Peters, Maralinga poison Munda, size: H37.5 x W63.5
Margaret May Title Loud Thunder and mamu train Size H36 x W63.5cm
Karen Ingomar, They take us away them white fellas, size: H36.5 x W62.5cm
Artist Mima Smart, The Big Camp, size: H39cm x W66.5cm
Artists Melvina Smart and Eileen Champion, Bush Church, size: H41.5cm x W66cm
Margaret May, Taken from Country, size: H35.5 x W63cm
Rita Bryant, Anangu Tjuta at Ooldea Tank, size: H33 x W60.5cm
Glenda Ken, Untitled, size: H86cm x W81cm
Mary Ann Finlay, Untitled, size: H85cm x W82.5cm
Melissa Windlass, Untitled, size: H77.5cm x W82cm
All photographs by Pam Diment.
Footnotes