International Voices
RICO ISHII, MARIKO ODA and WORKSHOP PARTICIPANTS
Mariko (Rico) Ishii has worked as outreach and communication officer, media trainer and journalist over the past ten years in the fields of nuclear free movement, human rights and democracy. She is from a Hiroshima hibakusha family.

Mariko Oda is a resident of Hatsukaichi, a city near Hiroshima. Her grandmother was exposed to the atomic bombing of Hiroshima.
International Voices
Rico Ishii, Mariko Oda and workshop participants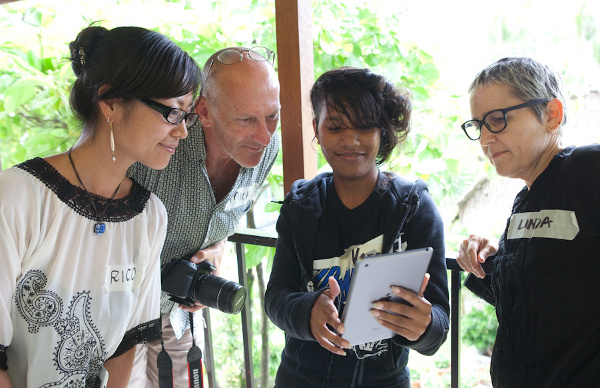 Marshall Islands workshop. Photo by Jessie Boylan
In March 2014, via a collaboration between Alphaville and the Hiroshima-based Global Hibakusha Project, representatives from Japan, Australia, Marshall Islands and Kazakhstan gathered at Majuro in the Marshall Islands, for a workshop designed to build community capacity through digital storytelling. The experience informed later projects within the Nuclear Futures Partnership Initiative -- enabling international links involving creative artists with atomic survivor communities.
Participants' perspectives are represented in the following webisodes. As the Nuclear Futures program grew to include a sculpture gift to the Nagasaki Peace Park, Hiroshima-born Mariko (Rico) Ishii also became the translator for the program. Rico visited Yalata for its festival in 2015, and helped facilitate the sculpture gift, including the Australian delegation to Japan for its unveiling.
WEBISODES
1) Mariko Ishii, Translator from a Hiroshima atomic survivor family reflects on arts and stories of the bomb
2) Mariko Oda, Japanese atomic survivor tells her family story at the Marshall Islands workshop
3) Atomic survivor participants at the Marshall Islands youth leadership workshop tell their stories.
Production Credits
Camera/sound: Jessie Boylan, Mick Broderick, Robert Jacobs, Linda Dement
Editing: Ray Thomas, Jessie Boylan